Al Ghandi Auto Inks Landmark Deal With Dubai Camel Racing Club
Al Ghandi Auto Inks Landmark Deal With Dubai Camel Racing Club
Dubai, UAE – In a landmark deal, Al Ghandi Auto, one of the largest and long-standing automotive industry organizations in the Middle East region, signed an agreement with the Dubai Camel Racing Club, for the sale of 112 Chevrolet vehicles – 109 Trailblazers and three Tahoes.
Following its re-launch in the UAE market in January 2017, the new Chevrolet Trailblazer continues the legacy of a rugged and capable SUV that is built with a bold style, equipped with many innovative technologies and advanced active safety features, making it an ideal vehicle for off-road and city driving.
"Despite the challenging market conditions in the automotive industry, I am delighted to handover the keys of 112 brand new Chevrolet vehicles to the Dubai Camel Racing Club," said Mark Jenkins, CEO, Al Ghandi Auto. "This deal proves once again the strong positioning of Al Ghandi Auto in the local market and the commitment of its fleet unit to finalize remarkable deals, despite the global market conditions."​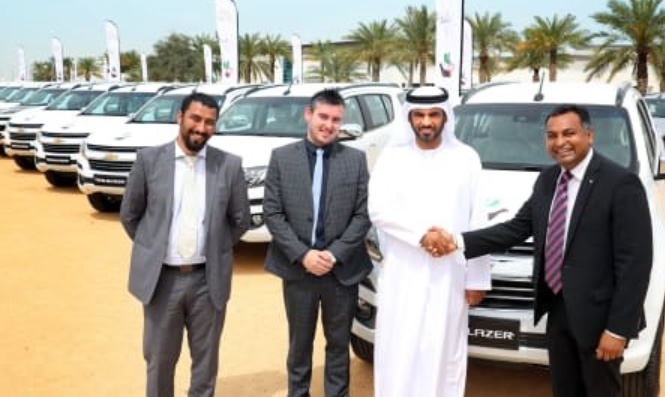 Commenting on the agreement, Mr. Ali Saeed Bin Saroud, Executive Manager, Dubai Camel Racing Club, said, "We have chosen Al Ghandi Auto from a line of other auto dealers in Dubai because of the great commitment and flexibility shown in their sales proposition. We were looking for the ideal vehicles that mixed luxury and practicality, and we're happy with the decision to choose Al Ghandi Auto as a valued partner in this deal."
The new Chevrolet vehicles will be used for the annual Dubai Camel Racing Festival, organized by the Dubai Camel Racing Club. The Festival, which marks the end of the Al Marmoum racing season, is a high-profile event, which attracts more than 12,000 camels from the GCC countries including Kuwait, Saudi Arabia, Qatar, Bahrain, Oman and the UAE, offers a staggering Dh90 million in prizes that is inclusive of 300 luxury cars and cash prizes totaling more than Dh30 million.
Al Ghandi Auto's business fleet provides corporate customers with a wide-array of vehicle options to choose from, topped with Al Ghandi Business Choice for preferred customers that provides businesses with a free replacement vehicle whilst undertaking a free service maintenance package. Other benefits of becoming a Preferred Customer are the 3-day test drive, 3 years regional warranty, 0%interest for 12 months and free vehicle registration.
© 2023 Al Ghandi Auto Group. All rights reserved.