Al Ghandi Auto Group Came 14th Place In The Great Place To Work Awards Ceremony
Al Ghandi Auto Group Came 14th Place In The Great Place To Work Awards Ceremony
Unique culture has evolved at Al Ghandi Auto Group with a great working environment and a positive energy where employees feel that it is not just a job but part of their extended family. Employees at all levels are able to freely share their ideas, suggestions and feedback with the management team.  Cultural diversity is embraced with the owners, management and employees of some thirty-five different nationalities actively participating together at the many annual festivals as well as regular team building activities, family days, marathons, sporting activities and talent contests that take place each year. A robust training programme has been implemented that helps the company to achieve the highest standards of performance, expertise and service levels whilst also supporting its employees to fulfil their career goals. With a transparent grading structure, annual salary review and an excellent reward scheme for every employee, the Group has been able to maintain the highest levels of employee engagement and low turnover.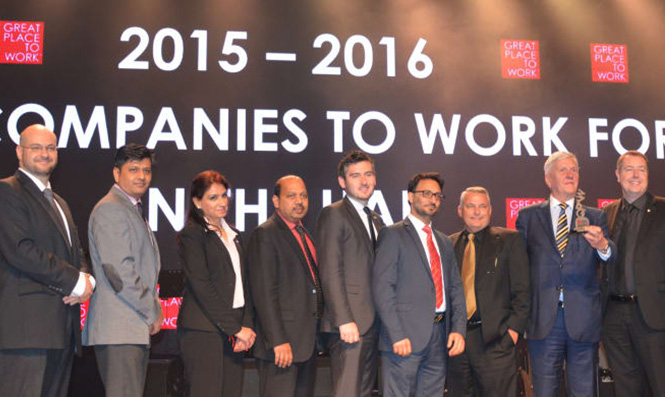 The list of 20 best companies to work for in the uae for 2016 is out now
This ranking, released by Great Place to Work, a research, training and consultancy firm that recognises the best workplaces in the country with good workplace cultures, has listed its top picks in the private sector.
Securing the number one slot for the third consecutive year is logistics company DHL.
"Living by its core values, nurturing employee development, creating a fun work environment, being transparent, listening and acting on employee feedback and celebrating successes," are the attributes that put it in the top order.
Next on the list is THE One, up from two spots from 2015 followed by Omnicom Media Group. In fourth place is first-time list maker Splash, while The Estee Lauder Companies came in fifth, climbing one spot from 2015.
Ranking from sixth to 10th place on the list were EMC, Weber Shandwick, Hilti Emirates, Hilton and FedEx respectively.
The Top Companies to Work For annual benchmarking study assesses the level of credibility, respect, fairness, pride and camaraderie within an organization.
Two-thirds of a company's score is based on the confidential feedback of their employees while the remaining score is attained from an audit of management and HR practices.
The top companies were represented by a diverse number of industries including logistics, technology, finance, media, retail, hospitality, automotive, pharmaceutical and manufacturing.
Great Place to Work emphasises that the increased focus on workplace culture by UAE companies comes at critical time for the country.
"The next decade will mark the post-oil transformation of the UAE and the government has made clear the importance of developing, attracting and retaining the best talent to achieve sustainable growth," says Maha Zaatari, Managing Director of Great Place to Work in the UAE.
"We need more companies contributing to this mission through cultures that nurture and develop their employees in terms of their capabilities and wellbeing," Maha says.
"This focus on human capital has been proven to improve the happiness quotient of people and also make a significant contribution to helping the UAE realize its ambition to be the best country in which to live and work."
TOP 20 COMPANIES TO WORK FOR IN THE UAE
DHL
THE One
Omnicom Media Group
Splash
The Estee Lauder Companies
EMC
Weber Shandwick
Hilti Emirates
Hilton Worldwide
FedEx
WSP | Parsons Brinckerhoff
Hyatt
AstraZenea Gulf
Al Ghandi Auto Group
Leminar
Dulsco
Eros Group
Apparel Group
3M
UAE Exchange
Source Details: Emirates 24/7 News
© 2023 Al Ghandi Auto Group. All rights reserved.