ACDelco Tackles Counterfeiting in the Spare Parts and Aftersales Industry
ACDelco Tackles Counterfeiting in the Spare Parts and Aftersales Industry
We all know the frustration of picking up a cheap smartphone charger only for a message to flash on the screen saying the accessory is not compatible with our device. While this is frustrating in the moment, we should count ourselves lucky, as there is also a clear danger that a cheaper or counterfeit product might malfunction and even catch fire. This danger is even more of a reality when looking at the automotive industry: the result of using a counterfeit part could be the worst-case scenario.
For ACDelco, counterfeiting is unacceptable and so the brand works hard in the Middle East and around the world to put a stop to fake parts. Regionally, the automotive spare parts market is worth USD 8 billion and, of that, 12% is estimated to be counterfeit, equating to roughly USD 1 billion. Unfortunately, the reality is that criminal counterfeiters are targeting customers on either the hunt for a cheaper alternative or those who are simply unaware that these parts are not authentic.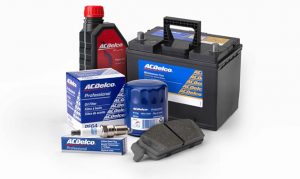 As one of the global leaders in automotive spare parts, ACDelco has highlighted the top things to look out for when you're buying spare parts, to make sure you're buying a reliable, safe product.
1. Always buy from a reputable seller.
When looking for a spare part, visit a known retailer who is licensed to sell official ACDelco products. If in doubt, reach out to your dealer who can direct you to the nearest ACDelco store.
2. If you're not installing the part yourself, ask the person who is if you can see the part and package.
Inspect the packaging. If it appears flimsy, lacks the name brand or logo, or has graphics or a name that is similar to, but not quite the same as, those you're used to seeing (i.e., AZDelco instead of ACDelco), it could be counterfeit. Counterfeiters often use colors, artwork and type fonts on their packaging that are similar to the original.
3. If it seems too good to be true, it probably is.
A competitive market drives variation in price among reputable manufacturers; however, extremely large differences in price should cause you to be suspicious.
4. What you see might not be what you get.
Counterfeiters have become very sophisticated as technology has improved so a visual inspection of the product may not be enough to distinguish genuine parts from the fake. Insist on ACDelco parts from authorized dealers and retailers.
5. Look for the distinguishing ACDelco mark
In an effort to make counterfeiting even more difficult for imitation parts producers, ACDelco is now affixing a distinct mark on certain parts. This mark will assist officials in distinguishing genuine products from their fake counterparts.
It isn't always easy to spot a fake, but if you suspect that you've purchased a counterfeit product, it's better to be safe than sorry. You can reach out to ACDelco's support team or visit the ACDelco Arabia website to submit your concern. Together, we can put a stop to dangerous counterfeiting and keep you and your loved ones safe on the road.
© 2023 Al Ghandi Auto Group. All rights reserved.